BREAKTHROUGH FREE EBOOK REVEALS…
"How Dental Implants Can Help You Eat the Foods You Love; Improve Your Appearance, Speech, and Self-Esteem; AND Protect Your Health…"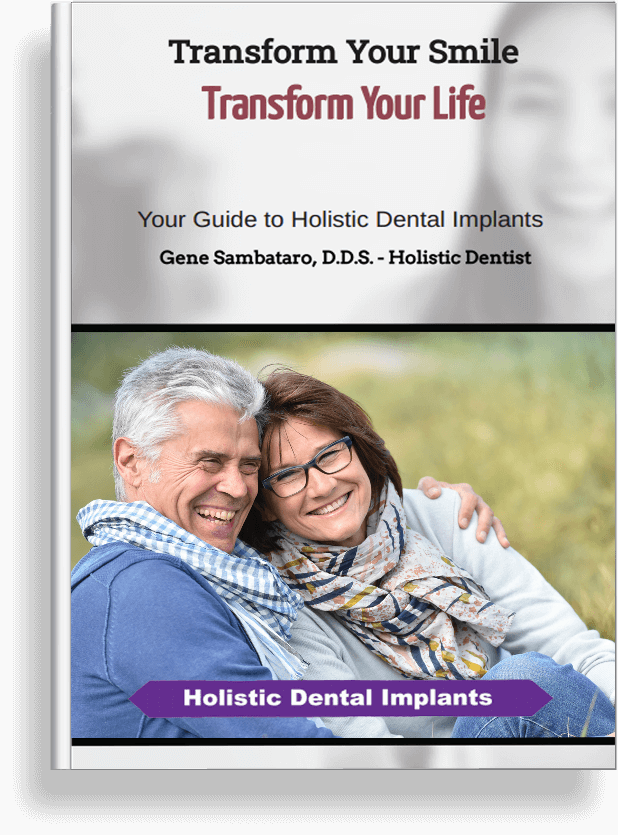 DOWNLOAD THE AMAZING FREE EBOOK & DISCOVER…
You can feel proud to show off your new smile because you have regained the closest thing to the look, feel and function of your natural teeth…
Because you can now chew properly, you can enjoy all the foods that used to be too difficult to eat…
You can help stop the loss of more teeth, because you now have teeth that will support each other…
Best of all, stop the progressive bone loss and shrinking of your jawbone because your implants will mimic the roots of your natural teeth…
And you can expect these benefits to last a long time because dental implants have a clinically proven success rate of over 90% – almost twice the success rate of a fixed bridge…
To get your confidence back and a lifetime of healthy and attractive smiles, click the button below to get your free Guide to Holistic Dental Implants!
ABOUT THE AUTHOR
Hi, I'm Gene Sambataro, or "Dr. Sam" as my patients prefer to call me. I know that a trip to the dentist is not something that most patients look forward to. That's why, along with my staff and the help of our inhouse Health Psychologist, I have gone to such extensive lengths to create a homelike, friendly and supportive atmosphere in the practice. We will do whatever we can to help you feel relaxed and comfortable. We have also created one of the most advanced holistic dental practices in the country.
I choose to focus on holistic dentistry because I believe we are at the beginning of a fundamental shift in the practice of dentistry. A transformation that will alter the focus of dental practices away from the emergency treatment of symptoms towards compassionate, comprehensive and preventative biological care that truly embraces the philosophy of Hippocrates: "First do no harm." In this type of health-oriented dental practice, Dentists will become patients' Primary Care Physicians.
I have written this guide to help clear up any misunderstanding about holistic dental implants, what your choices are, and how best to proceed if you have missing teeth.
I hope you enjoy this guide and find some value in it.