DR. EUGENE SAMBATARO, DDS
Dr. Eugene Sambataro believes that the mouth is the window to a healthy body, mind, and spirit. He established a holistic dental practice centered on the interconnectedness of oral health and whole-body health. With over 40 years of experience, Dr. Sambataro continues to provide top-tier, comprehensive care through biological dentistry.
Background & Education
At the start of his career, Dr. Samabataro graduated from the University of Maryland School of Dentistry. He went on to further his education and change numerous lives through a holistic approach in many areas of dentistry.
Dr. Sambataro named his dental practice in honor of his beloved father, Julian B. Sambataro. He continues to pay tribute by helping members of his community. Dr. Sambataro's mission is to change the healthcare system so people don't have to suffer or die prematurely.
Professional Affiliations
Dr. Sambataro is a member of multiple professional organizations, including :
International Dental Implant Association
International Academy of Biological Dentistry and Medicine
American Academy of Oral Systemic Health
American Academy of Craniofacial Pain
American Academy of Dental Sleep Medicine
Academy of Sleep Medicine
American Sleep and Breathing Academy
National Sleep Foundation
Maryland Sleep Society
International Academy of Oral Medicine and Toxicology
Academy of General Dentistry
Holistic Dental Association
FREQUENTLY ASKED QUESTIONS
How do I choose the right dentist?
When it comes to choosing the right dentist for you, there are a few things you should check for. Here are some tips for choosing the right dentist:
Check their qualifications
For your convenience, choose a dentist that can help with the whole family's needs.
Make sure you feel comfortable both with your dentist and with their dental team.
What questions should I ask my dentist?
When searching for a new dentist, it's a good idea to interview them so you'll be sure they meet your expectations. Questions you should ask include:
How long have you been practicing?
Where did you study?
Do you hold any advanced certifications?
What professional associations are you a member of?
Have you received any awards or honors?
Can you show me patients' reviews along with before and after photos?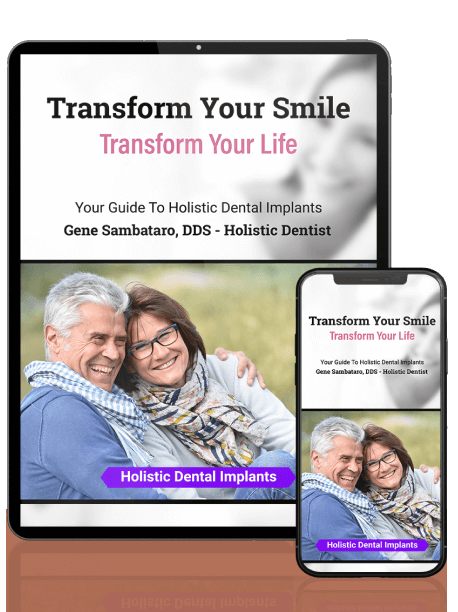 DOWNLOAD OUR E-BOOK TODAY!
To get your confidence back and a lifetime of healthy and attractive smiles, click the button below to get your free Guide to Holistic Dental Implants!
SCHEDULE AN APPOINTMENT WITH DR. SAMBATARO
If you've been looking for a holistic solution to missing teeth, Dr. Sambataro and our excellent staff at Julian Center for Dental Implants have the solution for you. Our metal-free zirconia dental implants will have you smiling for years to come. Call our practice today at (410) 505-4764 and schedule your appointment with Dr. Sambataro.